ZENQ Hiring BE/B.Tech Freshers as Associate Software Developer at Hyderabad.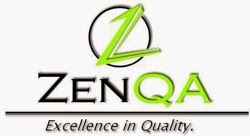 "Associate Software Developer" Opening and we are inviting you to the recruitment drive happening at our office on 2nd March 2014. at Hyderabad.

About ZENQ:
To become a reliable global leader in IT Services by delivering excellent quality to every customer. This we will achieve through skilled and motivated employees, state-of-the-art infrastructure and optimal processes & delivery model.

Awards: ZEN Quality Assurance Pvt Ltd is the Winner of
* Deloitte Technology Fast 50 India 2013 & 2012,
* Deloitte Technology Fast 500 Asia Pacific 2012,
* 2nd Best Indian SME in IT & ITES category in 2010.

Why ZenQ
ZenQ is the place where you are free to explore, encouraged to voice new ideas, allow quickly growing professionally to the fullest of our potential and getting greatest value to our efforts. This is what distinguishes us from the rest and inspires us to excel and innovate every task we do.

Services of ZenQ
ZenQ offers Manual Testing, Automation Testing, Security Testing, Performance Testing, .NET Development Services to our clients globally.


Position : Associate Software Developer
Experience : Fresher ( must be trained on .NET)
Job Location : Hyderabad
Contact : Gopi Krishna Vemuri / Kalyan Patnala.

Eligibility Criteria:
* Candidate Should be Trained on ASP.NET.
*Candidate should posses good technical skills in .NET Technical Concepts ( Knowledge in .NET is compulsory).
* Good Knowledge on .NET Programming.
*Fresher – Should be a BE/B.Tech (CSE, IT, ECE only) or MCA with 70% throughout their academic career i.e SSC, Intermediate, Graduation & Post Graduation and passed out in 2012 / 2013.
*No pending backlogs.

Please find the below venue details for the walk-in

Day & Date : 2nd March 2014 2.00pm.
Education Qualification : B.E / B.Tech ( IT, CSE, ECE only) with 70% or MCA
Year of passed out : 2012 or 2013
Registration Time : 12:30pm to 01:30pm Only
Written Test : 02:00pm

Selection Process :
1. Aptitude Test (1 Hour)
2. .NET Programming Test ( 1 Hour)
Shortlisted candidates will be intimated through Email confirming the date, time , venue for face to face technical interview with us.

The below process follows on clearing written test
3. Technical Interview
4. CEO Interview
5. H.R Interview


Venue: ZEN Quality Assurance Pvt Ltd (ZenQ),
406, 4th Floor, Building No. 14,
Mindspace, K.Raheja IT Park, Madhapur
Hitec City, Cyberabad.
Hyderabad 500081
Landmark: United Health Group Building.


*Kindly ignore this post if your Percentage and skill set doesn't match with the above requirement / Eligibility Criteria.
*Candidate attended ZENQ interview in last 6 months are not eligible for this drive.
*Candidate's profiles will be screened and those not meeting requirements will not be interviewed.
*Please avail yourself as the interviews happen though out the day.

Mandatory to carry:
1. Hard copy of resume
2. 2 passport size photographs.
3. Hard/ Mobile copy of the interview call letter.
4. Any Identity card issued by Govt. of India.