pattern 10: C Program to print triangle Star pattern ( Pencil Shape Pattern)
Introduction:
We are going to write a C program to print the Pencil Shape Pattern using the stars. We will use the two for loops. One is outer for loop another is inner for loop.
The Outer for loop is responsible for the Rows printing and Inner for loop is responsible for Columns printing.
The program should take the input from the user. And print the pencil shape pattern like below.
For example, If the user input is 5. The program should print following output.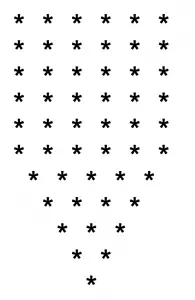 Write a C Program to print below pattern (Pencil Shape Pattern):
1

2

3

4

5

6

7

8

9

10

11

12

13

14

15

16

17

18

19

20

21

22

    

printf

(

"Enter the Value for n : "

)

;

 

    

for

(

i

=

-

n

;

i

<=

n

;

i

++

)

// Note that 'i' is starting from -n (negative n)

 
Pencil Shape Pattern Program Output: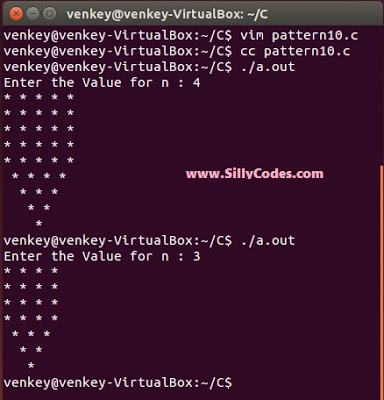 Similar Star pattern programs:
More C programs:
C Tutorials with simple Examples: