C Program to Check Whether given Number is Prime or Not | detect prime number or not in c Language
Program Description :
Write a Program to check whether a number is a prime number or not in C Language. The program should accept one Integer from the user and checks if it is prime or not.
What is Prime Number :
A Prime Number can be divided evenly only by 1, or itself.
A Prime Number must be a whole number greater than 1.
Example:
3 can only be divided evenly by 1 or 3, so it is a prime number.
But 6 can be divided evenly by 1, 2, 3 and 6 so it is NOT a prime number.
Note : There are other efficient ways to write this program. we will discuss them in next posts.
Program to check number is Prime number or not in C Language :
We will use one flag variable and set that flag to 1 if the given number is evenly dividable by any number (except 1 and the given number). That's why my for loop is started with 2 and ended at n/2
#include<stdio.h>

{

        

// first set the flag to 0

        

printf

(

"Enter any positive Number : "

)

;

        

// check if FLAG is 0 or 1

        

// if FLAG is 0 then Number is Prime.

        

// otherwise Number is not Prime.

                

printf

(

"%d is Prime Number  \

n

"

,

num

)

;

                

printf

(

"%d is not a prime Number \

n

"

,

num

)

;

}
OUTPUT :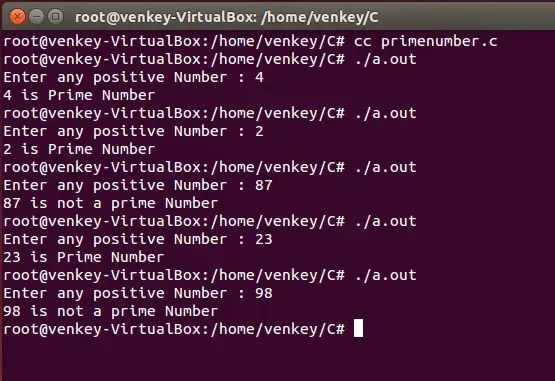 C Program to check given Number is Prime or not
Similar C Programs :