Patter 6: reverse pyramid star program in c
Program to print below pattern ( Reverse Pyramid Star pattern ) :
Write a C Program to print the Reverse Pyramid star pattern. We are going to use the C language for loops to print the pattern.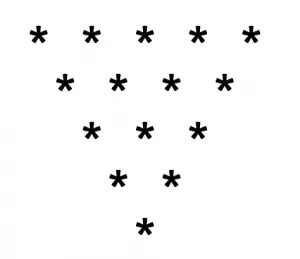 Here is the sample output of the program. Here user provided input as 5. So we have rows for the pyramid shape.
* * * * *
 * * * *
  * * *
   * *
    *
Reverse Pyramid Star Program :